For many, "safety" undoubtedly seems like a basic concept: act with caution, be aware of your surroundings, think ahead. But for a company like ours with thousands of employees and millions of customers counting on us for reliable water and power, safety takes on a much deeper meaning. At Liberty, we have adopted a safety excellence model, based heavily on ingraining a set of life-saving behaviors, that empowers employees to recognize workplace hazards while on the job and to take responsibility for their own safety, as well as the safety of team members and the communities where we live and work.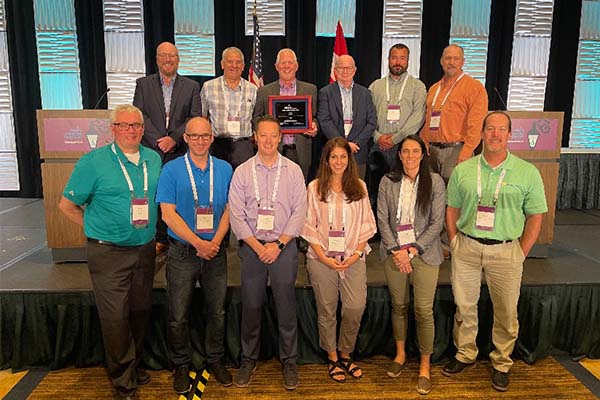 In 2019, Liberty developed a five-year health and safety plan that transforms the way we look at and manage safety, and we continue to use – and evolve – that model to this day. Key to the approach is to look ahead, not back: rather than focusing simply on past data and lagging indicators, Liberty is now looking forward at leading indicators and other trends and anomalies that are intended to help us be more predictive, and proactive.
"Rather than building policy, procedures and programs aimed at reducing events that have already occurred, we have completely changed our mindset to focusing on how to identify and resolve negative safety events before they happen."
This innovative approach to health and safety management has already yielded great success: as of June 25, 2022, our employees worked over 13 million hours without a single lost time injury across our entire North American business. It has also helped us attain external recognition: in June of 2022, we were thrilled to receive the American Gas Association's (AGA) Safety Achievement Award for our 2021 safety performance scores in the mid-multi-utility category. And in 2020 and 2021, we received the Employee Safety Award from the Canadian Gas Association.
Making the switch to leading indicators
If it's about looking ahead and trying to prevent incidents before they happen, what exactly do leading indicators look like? Here are a few examples that we strive to implement:
Safety Observations – Conversations between team members to share information, provide coaching and recognize positive behaviors.
Good Catch – The documentation of an action or observation that could have led to a safety problem, injury, or otherwise.
Leadership Engagements - Leaders are encouraged to engage in safety-focused activities over the course of the year. For example, attending safety meetings, training, symposiums, conducting or participating in inspections, delivering focused presentations, participating in incident root cause analysis investigations, implementing a safety-related corrective action, etc.
Inspections – More robust and detailed inspections of facilities/equipment to identify potential issues or problems before they occur.
Action Closure Rate – If there is a hazard recognition or good catch, these issues are addressed, and action items are closed in a timely manner.
Near Misses – Documenting and recording near misses, addressing the cause, then taking steps to prevent them from reoccurring in the future.
These leading indicators not only track performance, but they also contribute to enterprise-wide transparency and a culture of trust and openness.
Innovative approach + diligence = meaningful safety improvement
Taking a proactive approach has helped Liberty make consistent strides against our safety goals. Over the last five years, Liberty has seen continuous improvement across the board in safety metrics, with 2021 having the best safety results in our 30+ year history.
From 2017 to 2021, lost time injuries improved 100%, recordable injuries saw an 80% improvement, and preventable motor vehicle improved 45%.
In 2021, 831 near misses and 6,972 safety observations were recorded, providing significant data to use for future safety improvements.
In 2022, Liberty fully transitioned to predictive safety analytics, utilizing an EHS 4.0 model that digitizes health and safety data, provides real time reporting, and actionable information. This is then used to develop strategic plans and processes that are intended to keep our employees, customers and communities safe.
Liberty's culture is supported by its regular safety programs such as our annual Safety Symposiums, Safe Start program, and Smith Driving just to name a few. Year-round educational safety campaigns such as "Take Two" and Life Saving Behaviors further raise awareness and allow employees to foster a culture of safety excellence.
As Tim Deppmeyer notes, "It's a process and takes time and commitment. Our goals are lofty, but we are confident that Liberty, and our dedicated employees are on the right path, and we are emerging as an industry innovator and leader in safety."
Forward-Looking Statements
Certain statements included in this article may constitute "forward-looking information" within the meaning of applicable securities laws in each of the provinces and territories of Canada and the respective policies, regulations and rules under such laws and ''forward-looking statements'' within the meaning of the U.S. Private Securities Litigation Reform Act of 1995 (collectively, "forward-looking statements"). The words "will", "expects", "strive", "can" and similar expressions are often intended to identify forward-looking statements, although not all forward-looking statements contain these identifying words. Specific forward-looking statements in this article include statements regarding safety processes (including the outcomes thereof), commitment and performance. These statements are based on factors or assumptions that were applied in drawing a conclusion or making a forecast or projection, including assumptions based on historical trends, current conditions and expected future developments. Since forward-looking statements relate to future events and conditions, by their very nature they require making assumptions and involve inherent risks and uncertainties. Algonquin Power & Utilities Corp. ("AQN") and Liberty caution that although it is believed that the assumptions are reasonable in the circumstances, these risks and uncertainties give rise to the possibility that actual results may differ materially from the expectations set out in the forward-looking statements. Material risk factors and assumptions include those set out in AQN's Management Discussion and Analysis and Annual Information Form for the year ended December 31, 2021, and in AQN's Management Discussion and Analysis for the three months ended March 31, 2022, each filed with the applicable securities regulatory authorities in Canada and the United States and available on SEDAR and EDGAR. Given these risks, undue reliance should not be placed on these forward-looking statements, which apply only as of their dates. Other than as specifically required by law, neither AQN nor Liberty undertakes any obligation to update any forward-looking statements to reflect new information, subsequent or otherwise.